iOS App Development Course
January 20, 2018 10:00 am

-

January 27, 2018 5:00 pm

£499 - £999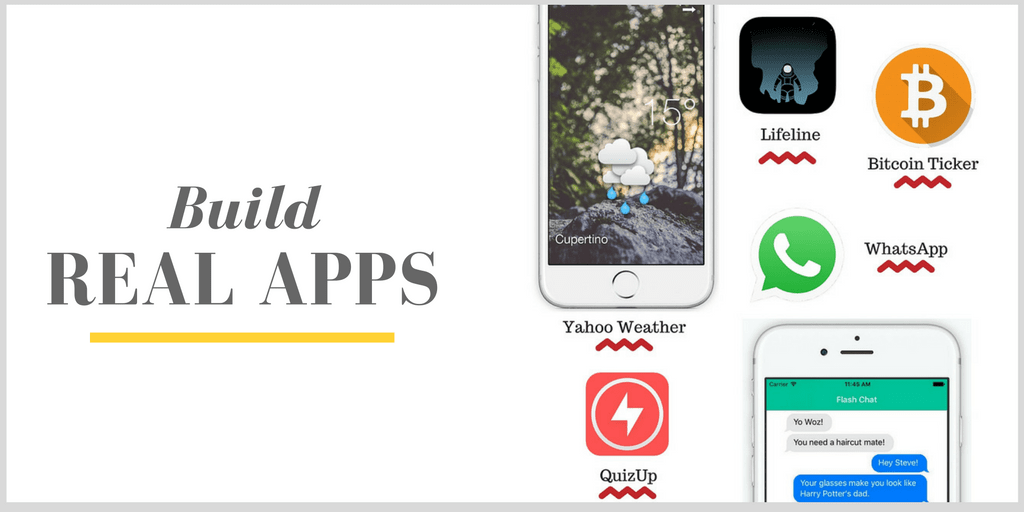 Course Description
Our complete iOS 11 app development course teaches you how to program in Swift and build beautiful iPhone apps.
Our weekend course assumes no prior programming knowledge and takes you through app development step-by-step. By the end of the course, you will be confidently programming in Apple's latest language – Swift – and ready to start building your own apps.
What You Will Build
We believe in learning by doing. So you'll be getting to grips with app design and programming by building 10 popular apps from the App Store.
You'll learn how to program in Swift (for iOS) and become familiar with the Apple Xcode software during the course.
These are just some of the apps you will code and build by the end of the course:

I Am Rich: The $999 App
Learn app design skills and how to use Xcode to build a project from scratch.

Destini: A Choose-Your-Own Adventure Game.
Learn control flow in Swift and build a clone of "Lifeline".
Clima: GPS Weather App
Tap into the GPS sensor and get live data from the internet using APIs.

FlashChat: Build WhatsApp
Create a cloud-based database to power your very own chat application.
What You Will Learn
Become familiar with Xcode, Apple's Integrated Development Environment.
Learn to use the Interface Builder to Design Your Apps.
Learn Auto Layout and make your apps look good on all devices.
Become fluent in the Swift programming language.
Learn full-stack app development, including having your own data server on the net.
To find out more about the technical objectives of the course, you can download the full course specification here.
The App Development Course Schedule:
First Saturday: 10:00 – 17:30 Foundation in App Programming & App Design Workshop
Second Saturday: 10:00 – 17:30 Intermediate App Development & App Marketing Workshop
iOS track requirements:
Bring your own Mac with Xcode 9 installed. We'll get you access to Xcode and guide you through the installation process prior to the course.
Optional (Recommended): bring your iPhone and a USB cable to install your own apps on it. If you don't have an iPhone, don't worry. You will still be able to run your apps on your Mac.
Still unsure? Check out what our past students had to say.
Book now before it's gone!