iOS App Development Course
May 13, 2017 10:00 am

-

May 20, 2017 5:00 pm

£499 - £599
Course Description
Our complete iOS 10 app development course teaches you how to program in Swift and build beautiful iOS apps. It was developed and refined through years of in-person teaching. It's composed of a combination of guided tutorials and challenges. By the end of the course, you will be fluently programming in Swift 3.0 and be on your way to becoming a fully fledged iOS developer.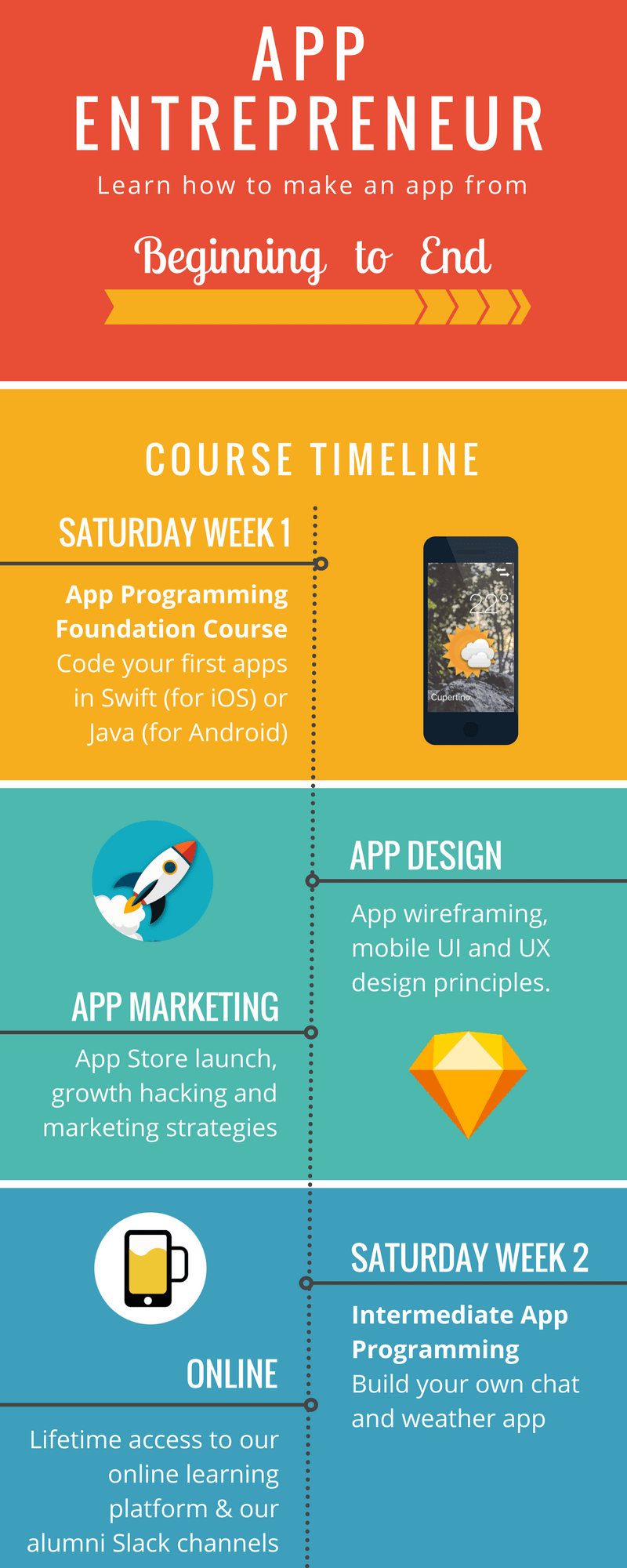 What You Will Build
We'll guide you step-by-step through how to make over 12 popular apps from the App Store and Google play stores.
ZERO programming experience necessary! You'll learn how to make apps natively in Java (for Android) and become familiar with Android Studio during the course.
These are the apps you will code and build by the end of the course:

I Am Rich : The app that sold for $999 on the App Store
Learn basic app design skills and how to set up a new app project.

Dicee: Code a Las Vegas Dice App and make it fit every screen size and device orientation.
Learn about randomisation, arrays and methods.

Quizzler: Make your own version of the famous "Quiz Up" app.
Learn about the Model View Controller design pattern and code up a trivia app.

Destini: Create a Choose-Your-Own Adventure Game.
Inspired by the app store sensation that is "Lifeline". You will learn about state tracking and conditional statements.
Clima: Make a Beautiful Location Based Weather App
Learn how to use your GPS sensor and display live weather data from the internet. Also start using open source code libraries to improve your development.

Flash Chat: A Whatsapp clone.
Learn to store and retrieve data from the cloud using Firebase.
The App Development Course Schedule:
First Saturday: 10:00 – 17:00 Foundation in App Programming & App Design Workshop
Second Saturday: 10:00 – 17:00 Intermediate App Programming & App Marketing Workshop
Lifetime online course access. With over 80+ hours of HD videos detailing step-by-step instructions taking you through the complete iOS course.
iOS track requirements:
Bring your own Mac with Xcode 8 installed. Follow these steps on how to get set up for iOS programming.
Optional (Recommended): bring your iPhone and a USB cable to install your own apps on it. If you don't have an iPhone, you will still be able to develop the apps on a Simulator using Xcode.
Still unsure? Check out what our past students had to say:


Download the full course specification here.
Book now before it's gone!